WATER BATH INCUBATOR SHAKER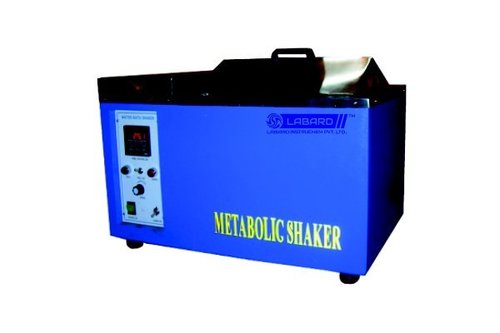 WATER BATH INCUBATOR SHAKER
Product Description
SALIENT FEATUR ES :
Novel double walled structure effectively prevents vapor leakage.
Intelligent temperature controller with PID program (Optional)
Digital display and touch operating buttons (Optional)
Function of timing and over temperature protection (Optional)
Stainless Steel inner chamber .
PRODUCT DETAILS :
It is a double walled unit with inside made of thick Stainless Steel and outer side is made of mild steel sheet prevent falling of condensed water droplets on the specimens. Heating is achieved through an immersion type heater and the temperature is controlled by digital temperature indicator-cum-controller or thermostat. The bath has an oscillating tray riding on ball rollers oscillated through a geared variable speed motor. The shaking tray can either hold test tubes or Erlenmeyer flasks of 25 ml or 50 ml or 100 ml or 250 ml or 1000 ml. as ordered by the users. (Kindly mentioned the capacity of the flasks while ordering). Works on 220 / 230 volts A.C. supply. Available only with heating arrangements (having temperature range from ambient to 90C).
SPECIFICATIONS :
Shaking tray size

(Stainless Steel)

Capacity

(Approx.)

275275150 mm

12 liters

405300150 mm

18 liters