DELUXE WATER AND SOIL KIT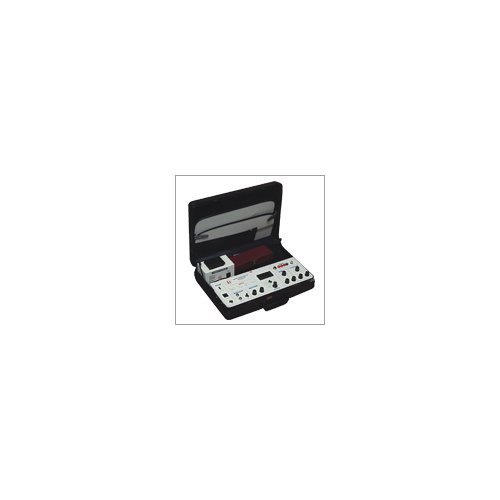 DELUXE WATER AND SOIL KIT
Product Description
SALIENT FEATURES :
pH, Conductivity, TDS, DO, Salinity, mV & Temp. Measurements
Turbidity Measurement (Model-LIM-156)
Mains cum Battery Operated
Available in ABS Plastic Briefcase
PRODUCT DETAILS :
LABARD stands as the most leading Water and Soil Testing Instruments Suppliers in India. These Water and Soil Analysis instruments are widely used for field testing of important parameters such as pH, ORP, Conductivity, TDS, Salinity, Dissolve Oxygen, Turbidity, and Temperature.
LABARD instruments are used for efficient use of nutrients in the soil, to test the purity of drinking water and for waste water testing etc. These water and soil analysis kits are available in portable briefcase making them very convenient for field measurements.
Specification
Model

LIM-156

pH

Product

Deluxe Water & Soil Analysis Kit

Display

3 1/2 Digit LCD

Range

0 to 14 pH

Resolution

0.01 pH

Accuracy

0.01 + 1 Digit

Temp. Comp.

0o C to 100o C (Manual)

Conductivity (EC)

Range

0-20 mS

Resolution

0.01mS (10 S)

Range Selection

-

Accuracy

+ 0.5 % FS, + 1 Digit

Cell Constant

Pre-adjusted

Temp. Coefficient

2.00%

Reference Temp.

25o C

Temperature

Range

0-100o C

Resolution

0.1o C

Accuracy

+ 0.10 C + 1Digit

Sensor

Semi Conductor Type

TDS

Range

0-20 ppt

Range Selection

-

Resolution

0 .01 ppt

Accuracy

+ 0.5% FS + 1 Digit

Cell Constant

Pre-adjusted

DO

Range

0-20 ppm

Resolution

0.1 ppm

Accuracy

0.5 ppm + 1 Digit

Temp. Comp.

Manual (5o C to 55o C)

D.O Sensor

Gold/ Silver Amperometric probe

mV (ORP)

Range

-

Resolution

-

Accuracy

-

Turbidity

Range

0-1000 NTU

Resolution

1 NTU

Accuracy

+ 3% FS + 1 Digit

Sample System

30 mm clear glass tube

Salinity

Range

0-50 ppt

Resolution

0.1 ppt

Accuracy

+ 0.5%FS + 1Digit

Power Supply

12V Rechargeable Battery or 230V + 10%AC,50Hz

Standard Accessories

pH Electrode, EC/TDS/Salinity
cell, temp. Probe, D.O Probe,
Dry cell container, Main lead operation
manual, Bottles for pH solution & pH
Tablets Bottles, Turbidity Test Tube Set