DIGITAL VISIBLE SPECTROPHOTOMETER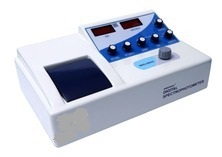 DIGITAL VISIBLE SPECTROPHOTOMETER
Product Description
SALIENT FEATURES :
Dual digital Display for wavelength & data.
Wavelength Resolution 1 nm.
Direct Concentration Facility.
10

mm & 50 mm path length.

Sturdy Structure.
Easy to Operate.
Non Corrosive.
Accurate Reading.
PRODUCT DETAILS :
Digital Spectrophotometer LIM-102 is the most economical, reliable, rugged and accurate instrument for spectrophotometric analysis of any concentration. Digital Spectrophotometer are operates at a wavelength range of 340 nm to 960 nm. The output is available on a 3 digit red seven segment LED display in terms of %Transmission (%T), Absorbance (Abs.), and Concentration (Conc.).
SPECIFICATIONS :
| | |
| --- | --- |
| Detector | Silicon Photodiode |
| Display | 3 digit LED display for results and 3 digit LED display for Wavelength |
| Range | 340nm 960nm |
| Resolution | 0.1%T, 0.001Abs, Conc. 1 |
| Output | 0 to 100%T, 0 to 1.999 Abs and 0 to 1999 Conc. |
| Monochromator | 600 Lines/mm holographic grating |
| Sample Holder | 10 mm double tube holder |
| Spectral Bandwidth | 5 nm |
| Wave Length Resolution | 1 nm |
| Wavelength Accuracy | 2.5nm |
| Repeatability | 2 nm |
| Power | 230V 10% AC 50 Hz |
| Dimension | (L) 475 x (B) 290 x (H) 190 |
| Accessories | Operation Manual (1no.), 10 mm Glass Cuvette (2nos.), Dust Cover |