laboratory DEEP FREEZER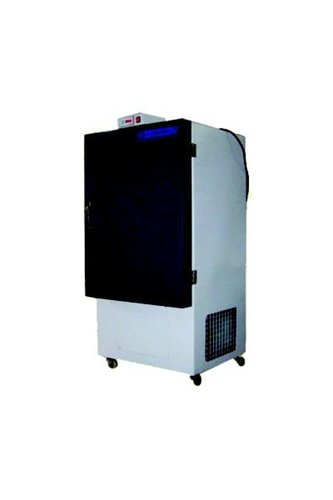 laboratory DEEP FREEZER
Product Description
SALIENT FEATURES :
Compact design with large storage capacity

Outer casing is galvanized steel with baked on paint finish for durability.

Robust construction and elegant looks.

Inner liner is Stainless Steel/Pre coated GI

Higher Capacity System for fast pulls down.

High density, environment friendly, polyurethane foam for better insulation.

High-pressure injection machine used for efficient insulation.

R-134 a refrigerant, chlorine free, environment friendly.

Energy saver compressor-low energy consumption.

Longer thaw out time to take care of prolonged periods of failure.

60 mm thick insulation

Temperature range (ambient to –200 C)

Temperature controlled through solid-state digital temperature controller cum indicator.

Volume: 250 liters / 350 Liters / 500 Liters (It can be customized as per the requirement)
PRODUCT DETAILS :
Double walled with inner chamber made of S.S. & outer of thick PCRC duly enamel painted. Temp. range from ambient to -20°C is achieved by hermetically sealed compressor. The gap between the inner & outer wall filled with high grade PUF Insulation to avoid thermal Loss. Body is mounted on the sturdy angle iron frame & is mounted on caster wheels. Unit is fitted with MICRO PROCESSOR DIGITAL TEMPERATURE INDICATOR-CUM-CONTROLLER. Horizontal Chest type Models are supplied in a single compartment whereas vertically models are supplied with three Storing shelves.
CONSTRUCTION : Labard cryogenic freezer is double walled cooled units. Outer body of our laboratory refrigerators are constructed out of thick
PCRC, pre coated corrosion resistant GI sheet duly pre-treated with primers and rust proofing and painted with long lasting stove enamel or elegantly powder coated. The inner construction is made of stainless steel sheet-304. The 100 mm gap between the walls is filled high grade polyurethane insulation, which ensures maximum thermal efficiency.
Cooling : An energy efficient cooling unit is installed in our laboratory refrigerators. We use high end CFC free compressors of Kirloskar/Tecumseh / Bitzer/ Danfoss make, conforming to latest international standards and guidelines.
Cooling Medium : Air cooled CFC free refrigerants.
Temperature Range : Temperature range of our refrigerator is -0°C to -20°C controlled by nanotechnology based microprocessor temperature controller.
Temperature Accuracy : ± 10C or better.
Alarm System :
Power failure or temperature deviation triggers audible and visual warning.
Automatic Incident Monitor identifies temperature deviation beyond alarm set points.
System includes adjustable safety alarm with automatic, continuous charge battery backup and digital battery indicator.
System includes touchpad alarm test function RS-232 data port with system software.
Exterior alarm contacts for connection to remote monitoring system.
Monitoring System :
Lifeguard compressor protection to monitor performance and automatically adjust to internal and external conditions
Extreme Ambient Alert that warns if room temperature can affect performance Voltage Boost Indicator that advises of low source voltage below safe parameters and indicates voltage boost system is activated On-board power monitoring with digital readout of incoming line voltage Built-in surge suppressor "Clean Filter" indicator.
Doors :
Heavy-duty counterbalanced lid with integrated keyed lock and independent sub lids.
Double-seal lid gaskets minimize frost buildup Right hand side hinged door in upright models.
Motor : ½ HP externally mounted motor provides maximum and efficient airflow throughout the cabinet.
SPECIFICATIONS :
| | |
| --- | --- |
| Temperature range | -0°C to -20°C |
| Accuracy | ±1°C |
| Power Requirements | 220/230V, 50Hz |
| Controller | Microprocessor based |
| Chart recorder | 7-day optional |
| Insulation | Polyurethane foam |
| Compressor | Air cooled |
| Display | LCD |
| Defrost option | Provided |
| Specimen protection | Provided |
| Outer construction | Thick PCRC |
| Inner construction | Stainless steel |
Standard Sizes
| | |
| --- | --- |
| Capacity | Sizes in mm |
| 4 cu . ft | 375 × 500 × 605 mm |
| 6 cu . ft | 505 × 410 × 830 mm |
| 10 cu . ft | 570 × 550 × 875 mm |
| 12 cu . ft | 650 × 580 × 900 m |
Technical Specification
| | |
| --- | --- |
| Model Number | LI- DFL-54 |
| Type | Upright |
| Material | Stainless Steel |
| Temperature Range | -20 C |
| Capacity | 4 cu. ft-12 cu. ft |
OPTIONAL :
Automatic voltage stabilizer.