Lypholyzer (Freeze Dryer)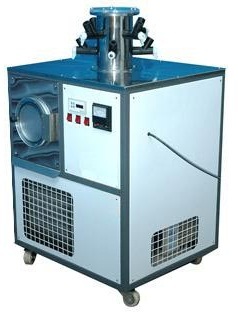 Lypholyzer (Freeze Dryer)
Product Description
SALIENT FEATURES :
Reliable
Precise Control of Environmental Parameters
Micro-processor based Controllers
Aesthetically designed.
Corrosion Resistant interior and exteriors
Energy Efficient
CFC free cooling
Sturdy Construction
Low Maintenance
Light Weight
COOLING : An energy efficient cooling unit is installed in our freeze driers. We use ISI marked high end CFC free compressors conforming to latest international standards and guidelines.
TEMPERATURE CONTROL/RANGE : Temperature range of our freeze drier is 20C to -300C/ -400C/ 550C/ -700C.
TEMPERATURE MATRIX FOR FREEZER DRYER (LYOPHILIZER) :
Temperature Control -
Temperature Sensitivity 0C 1 or Better
Spatial Deviation in Temperature 0C 1 or Better
Readability 0C 0.1
Temperature Range 0C 20C to -300C/ -400C/ 550C/ -700C.
Temperature Sensor - PT-100
Temperature Controller - Solid State Digital Controller/PID Optional
Display - LED/LCD
Adjustable Alarms Limits - Optional With PID Controller Only
Safety Thermostats -
Temperature Variation Adjustment - 3 (With PID Controllers Only)
Temperature Sensors - PT-100
Automatic Temperature Setting - Yes (With PID Controllers Only)
Adjustable limits - Yes (With PID Controllers Only)
Air Circulation - Forced
Refrigerant - R134A Non CFC
Power Consumption -
Nominal Power W 950-1450
Nominal Volt V 220-230 Volts, 50 Hz Single Phase
Frequency 50/60
Capacity
No. of Test