ULTRA SONIC BATH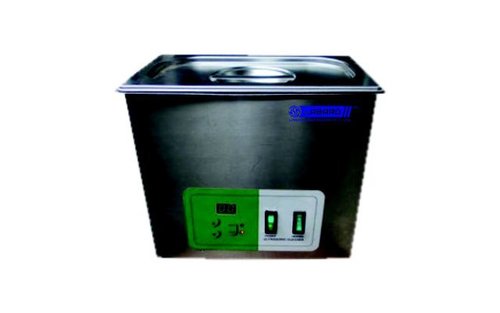 ULTRA SONIC BATH
Product Description
SALIENT FEATURES : :
LIENT FEES APPLICATION
Continuous self tuning circuitry for any change in work load liquid level and bath temp.
Uniform cavitations throughout the tank.
Separate oscillator eliminates damage to generator in case of failure of transducer.
Using 40 Khz frequency for effective cleaning with low noise
Designed for complete cleaning of small and large components without dismantling.
Inner tank and outer body made of stainless steel
PRODUCT DETAILS :
The Ultrasonic energy is produced by converting electrical energy in to Mechanical Vibrations by using generator and piezo Electric Transducers. Due to Mechanical Vibrations in cleaning liquid this Phenomenon is called cavitations. In a very short time it removes all dirt & foreign bodies from components which are immersed in the cleaning liquid.
Technical Specification
| | |
| --- | --- |
| Model Number | LI -USB-14 |
| Material | Stainless Steel |
| Shape | 175 * 165 * 200 |
| Capacity | 1.8 ltr. |
| Usage/Application | removes all dirt & foreign bodies from components |
SPECIFICATIONS :
Model

LI-USB-14 A

LI-USB-14 B

LI-USB-14 C

LI-USB-14 D

LI-USB-14 E

Make

LABARD

Tank Volume (liters)

1.8 ltr.

2.5 ltr.

4 ltr.

6 ltr.

9 ltr.

Ultrasonic Wattage

50 W

100 W

150 W

200 W

Ultrasonic Frequency

40 3 KHz

Tank Dimension (Taper)

L x W x H in mm

150 x 137 x 100

150 x 137 x 150

235 x 135 x 150

300 x 153 x 150

300 x 240 x 150

Outer Dimension

(L x W x H / mm)

175 x 165 x 200

175 x 165 x 250

265 x 165 x 290

325 x 175 x 290

325 x 265 x 290

Heating

Ambient to 800 C Digitally Controlled (Dual Display)

Digital Timer

5 to 60 Minutes

Tank Drain

N/A

Ball Valve

Inner Tank Material

Stainless Steel

Outer Housing Material

Stainless Steel

Power Supply

220 Volt, AC 50 Hz, Single Phase
Model

LI-USB-14 F

LI-USB-14 G

LI-USB-14 H

Make

LABARD

Tank Volume (liters)

12 ltr.

16 ltr.

25 ltr.

Ultrasonic Wattage

200 W

300 W

600 W

Ultrasonic Frequency

40 3 KHz

Tank Dimension (Taper)

L x W x H in mm

300 x 240 x 200

330 x 300 x 200

500 x 300 x 200

Outer Dimension

(L x W x H / mm)

325 x 265 x 340

354 x 325 x 340

530 x 430 x 320

Heating

Ambient to 800C Digitally Controlled (Dual Display)

Digital Timer

5 to 60 Minutes

Tank Drain

Ball Valve

Inner Tank Material

Stainless Steel

Outer Housing Material

Stainless Steel

Power Supply

220 Volt , AC 50 Hz, Single Phase